I have the need to programatically create a 1 bit BMP grid, meaning that I have the following parameters:
Width of file in pixel
Height of file in pixel
line width in pixel
line offset in pixel
I have done it in PerlMagick so far, but could use Imagemagick directly if need be, that's no problem.
BUT: when I create the grid, I get these odd squares where lines meet, and I get strange artifacts between lines if line width is different from 2.
This is a zoom of the squares, each line is 10 pixel apart, width = 2 pixel.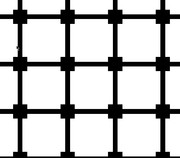 Example of the 15x1 version, with artifacts between lines:

How do I create a "pixel perfect grid" in Imagemagic ? Is it possible ?